Servo Driven Gear Head vs. Programmable Index Drives for Horizontal Rotary Index Table Applications
Many rotary index table end users need the flexibility afforded by having a fully programmable tool. A seemingly simple way to achieve this is by using a gear head coupled to a servo motor or an AC motor with an encoder. In reality though, while this seems simple and cost-effective, because of the physics described above, high inertia, combined with a goal of high accuracy can create a problematic mis-match.
To understand when you should be considering a cam indexer instead, read about the differences here.
Servo Driven Barrel-Cam Rotary Index Table
With a servo-driven barrel cam rotary index table, it's possible to deliver a wide range of table sizes, with zero backlash and unparalleled accuracy. Servo driven rotary indexers allow heavy inertial loads to be rotated in a very smooth and controlled manner.
You can learn more about this type of rotary index table here.
Cam-Driven Indexing Rotary Index Table
Cam-driven rotary index tables can have significant advantages over other types of rotary index table drive systems such as gear drives. Cam-driven rotary index tables provide extremely high accuracy because they operate with no backlash. There are several types of commonly used cam-driven rotary index table systems, each is best for a specific application.
Barrel Cam-Driven Rotary Index Table Drive
Barrel cams represent strength in indexing. Primarily found in rotary index tables, indexers utilizing barrel cams feature the greatest strength/size offering available.
To watch a barrel dam in action, see the video here.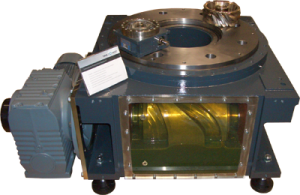 Barrel Cam Rotary Index Table Drive
Flat / Disc Cam-Driven Rotary Index Table Drive
Flat, or disc, cams are valuable for their space-saving attributes and the potential to produce very long dwell periods and operate at high speed.
To watch a flat cam drive in action, see the video here.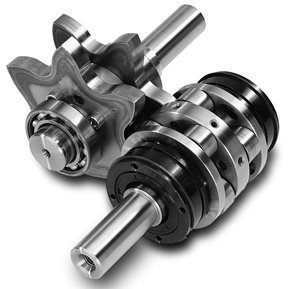 Flat / Disc Rotary Table Drive
Globoidal Cam-Driven Rotary Index Table Drive
Globoidal cams are similar to barrel cams in shape (and come from the same steel stock), but have considerably different profiles. Tapered walls in the grooves are designed to accommodate cam followers fixed to an output shaft in a "star" configuration.
To watch a globoidal campaign in action, see the video here.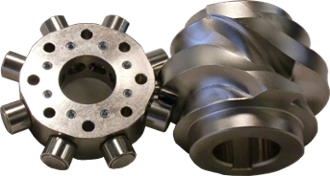 For more specifics on each type of cam-driven automation for rotary index table applications, you can read here.
Fixed and Flexible Rotary Indexing Tables
Cam driven rotary table indexers are sometimes call 'fixed indexers'. With a fixed indexer, the cam drives receive constant power input from the motor. This rotates the cam which then rotates the output. Based upon the design of the drive, the output will have 'dwell' periods (when the output is stopped) as well as acceleration, deceleration and peak velocity. Cam-driven rotary index tables have a number of advantages, however, they won't meet the needs of every application.
Rotary index tables can also be 'flexible'. Flexible rotary index tables use a cam that has a constant lead, that is the output is at a constant velocity if the motor is running at a constant velocity. Constant lead cams provide a high-precision mechanical transition of power to the output and since acceleration and deceleration are still necessary, the logic controller for the index tables motor provides the necessary control.